Welcome to the new Howaco Glass website!
BIG changes happing on the website over the next few days
I am really excited that the way you shop for glass rods is going to become much easier. Over the next several days you will probably see constant changing on the glass pages. We are converting the pages so that you can purchase glass from the main pages, there will be no more going into each individual page to order a color!  It is taking several big steps to get that set up, no quick way to do it. Because of the way it needs to be done, when it is completed, there will be pages that you purchase by poundage and there will be separate pages to buy individual rods from. I need to get the pound pages done first, then the single rods will come shortly after that.
Effetre Pastel Oranges and Reds
This shipment of the pastel oranges and reds have come through a lot lighter then they typically do. But if you are familiar with those colors you know that when you torch them they will darken. This is not the first time I have seen this over the years, but it has been a while. This is much better then the colors over struck and very dark as they can't be unstruck. So no worries, torch away and they will darken up as you torch!
It is CIM time! And Effetre too!
The CIM is here!!  And the Effetre shipment came in as well. Everyone have a fantastic day!
Website update
I am adding more items to the site every day. If you need anything added asap let me know and I will get that added next.
Great features my other website did not have
If you create an account on this site you will get some nice features. If you are signed in, the cart will remember your items, the items will be saved! You will also be able to see your order history. 🙂
Update: One thing I did want to let you know asap though is about shipping. As always I will always charge actual cost. But the shopping cart estimates. On my old site I had it pretty close to what the shipping would be, but the setup on this site is completely different, so it will take a while of me tweaking around with it for it to get closer to what is correct. But be assured, you will only pay actual cost. Thank you!
I still have lots and lots of items to get added to the site. You will see more and more items added every day. Please do not hesitate to let me know if you see a typo or if anything is not working correctly so I can get it fixed! There is a contact form farther down on this page. Good glass artist I am, good typist? Not so much! 🙂 Have a great day everyone!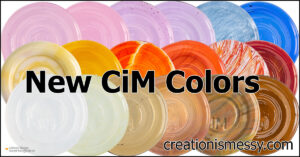 Here is a quick way to contact me. Let me know if you find any typo's, or if you have any questions, or just want to say hello!